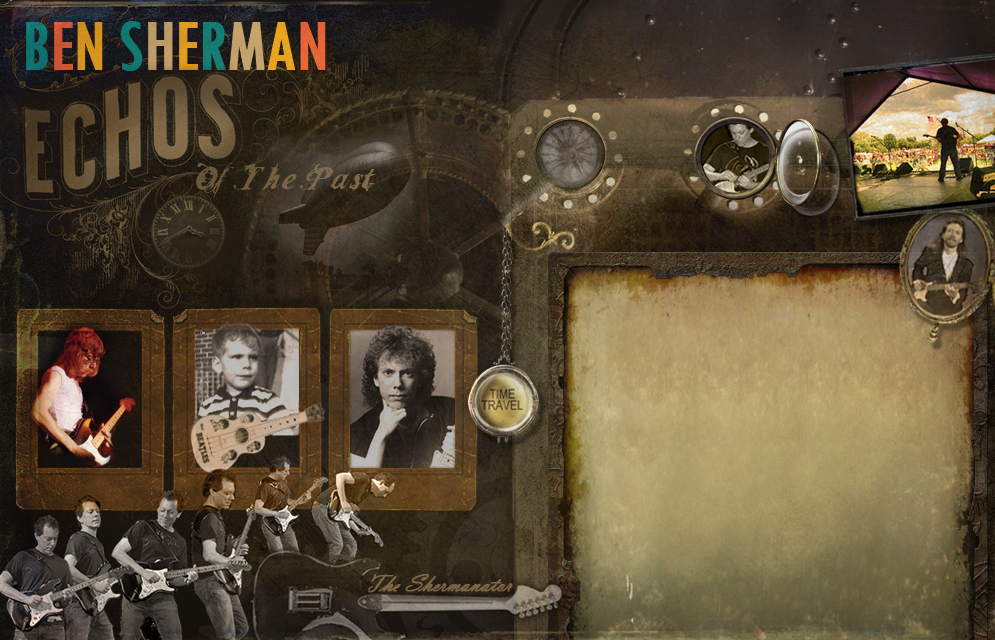 Ben Sherman took up the guitar at age twelve and hasn't stopped since. His career reflects a lifelong passion for the guitar in all its diversity, and a relentless pursuit of excellence.
Ben grew up listening to jazz, studying classical music and teaching himself rock and roll. Since joining his first band in 1975, Ben has played countless nights of gigs over the last 36 years with some of the best musicians in the Maryland region, in just about every style of music.
Ben took 10 years of intensive classical guitar study, including a B.S. degree in guitar performance from Towson State University, and has continued a lifelong commitment to playing classical music.
A 1987 feature in Guitar Player Magazine's Spotlight on New Talent further established Ben's reputation as a complete professional, first-rate guitarist.
Ben debuted his recording career with FIRST LIGHT, his 1998 independent release- a critically praised showcase for Ben's guitar talents in a primarily jazz-fusion setting. In FIRST LIGHT, Ben delivered a superb set of all instrumental originals, clearly showing the influence of Steve Morse, Jeff Beck, Allan Holdsworth, and more. It also features a Michael Hedges-inspired acoustic solo, and a lush multi-tracked rendition of Steve Hackett's "Horizons." Music Monthly Magazine selected Ben's "Chickenfish" for inclusion on its 1998 regional music compilation CD, MUSIC MONTHLY MUSIC.
The year 2000 marked the release of A WEDDING SAMPLER , featuring Ben on classical guitar along with flutist Marlee Lindon. This project features over 60 minutes of classical and light pop music, featuring Ben and Marlee's own arrangements of Vivaldi, Debussy and others.
In 2001, Ben collaborated with drummer Frank Young and bassist Angel Resto to produce ONE MIND, an all-instrumental album filled with more of Ben's trademark improvisation and plenty of funky/jazzy/rocking grooves.
In 2004, Ben was selected as a finalist out of a wide range of entries from all over the U.S. and Canada to participate in the North American Rock Guitar Competition in Buffalo, NY.
Ben Sherman was voted #1 Instrumental Musician and #3 Guitarist in the Music Monthly Readers Poll.
Ben has been teaching private guitar lessons since 1984 at Coffey Music in Westminster MD, and is happy to be reaching out to a new generation of guiarists. He is currently writing his first guitar instruction book.
Ben also offers a clinic/seminar program for guitarists interested in jazz-fusion guitar techniques.

Website design copyright © 2014 by Crystal Visions Art and Ben Sherman